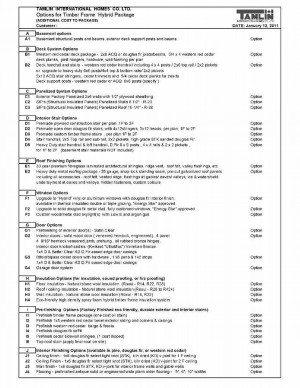 Tamlin provides an itemized list of the materials included with your log home package in our materials specification sheet so you know exactly what you are getting
To make construction terms easy to understand we also provide a labelled reference drawing and color architectural renderings on all our quotations
We also provide a comprehensive Bill of Materials which lists all the components in your entire home package and where they are used
A complete selection of quality optional materials is available to personalize your home, such as cedar deck systems, interior wood paneling, premade timber stairs and metal roofing. We often provide useful samples prestained, so you can choose your exact colour before it is factory finished.
Tamlin warranties all the materials provided in your home package. We also use name brand manufacturers of doors and windows who will jointly warranty our products across Canada. Ask us about our warranty program in your region.
…our construction contractors all remarked at the quality of the products Tamlin supplied. Many said they had not seen such nice quality wood for years…
George Heim – Washington USA